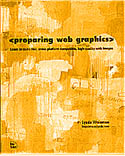 Title: Preparing Web Graphics. Author: Lynda Weinman. Publisher: New Riders. Publication Date: 1997. Price: $39.99. Pages: 238. http://www.mcp.com

Type of Book

Visual design is significant for the success of a Web site. Readers will judge the site on its content, appearance, responsiveness and accessibility. Thus a good grasp of how to prepare Web graphics properly is key to learning how to make Web pages look good and perform responsively. Preparing Web Graphics covers essential techniques of proper preparation and delivery of Web graphics. Suitable for Mac or PC user.

User Level

Useful for a beginning or intermediate user, whether working with Web graphics for the first time or a seasoned digital artist wanting to transfer print graphics skills to Web design. Weinman has written four other books on Web graphics. After writing Designing Web Graphics 2, a guide for professional designers and Web publishers who are planning or already creating Web sites, she wanted to produce a book for Web publishers who are just getting started in the medium, and thus wrote Preparing Web Graphics as a lower-cost alternative for the neophyte. I suggest that an intermediate user just might pick up some useful tips.

Review

Weinman's easy-to-understand style, along with the colorful design of the book, numerous graphics, charts, and step-by-step examples, puts the reader at ease with a subject that could be intimidating to someone new to the medium. It's fun to read, informative, and thorough. It does what it sets out to do: includes all the essential information to make your graphics and design work most effectively in an online environment.

Below is a brief sampling of what you can expect to be covered in the book:
Software and hardware advice on how to get started in Web design;
Cross-platform computing issues;
Equipment and browser differences found on the Web;
In-depth coverage about GIFs and JPEGs; information and charts to help you learn to make the smallest possible images that will download quickly and look their best;
How, when, and why to use browser-safe colors;
Reference for the HTML tags used in adding color to a site;
Discussion of GIF transparency which will eliminate unwanted halos and nontransparency tricks;
How to make seamless and seamed tiles with step-by-step tutorials for images and HTML;
Creating linked images and imagemaps and how to make artwork appear clickable;
How to create a HTML code and custom artwork for horizontal rules, bullets, and buttons;
Practical HTML and Photoshop examples which address the aesthetics, techniques and resources required to make the best use of typography on the Web.
How to work with invisible GIFs and alignment tags;
Working with animation.
Someone recommended this book to me, and I wondered if it could be as good as they said. It was. The book is one of the best for beginners. It is very easy to follow and thorough. Highly recommended. And if her Web site is any indication of what you can produce after reading the book, you would do well to follow her instructions. After viewing numerous Web pages that took ages to load, were cluttered, and unorganized I was impressed with her site.

Because of her understanding of how quickly information is changing and evolving in this field, Weinman includes many references to outside information sources, including URLs, other books, magazines, conferences, newsgroups, mailing lists, and CD-ROMs. This will give readers outside channels to get to new information. Updates are posted at her Web site as well: http://www.lynda.com. Her step-by-step lessons are prepared for Photoshop 4 users but are still valuable to those who have upgraded.